"Fear of a Blank Planet..."

See It:
04.09.2012 ab 19.30 @ Mani's Guitar Shop in St. Gallen - Tel: +41 71 250 0303
05.09.2012 ab 19.00 @ Musix AG in Rivera - Tel: +41 91 946 4660
06.09.2012 ab 19.30 @ Musik Produktiv Schweiz AG in Niederlenz - Tel: +41 62 885 1030
07.09.2012 ab 20.00 @ Seedamm Music Store in Pfäffikon - Tel: +41 55 420 1717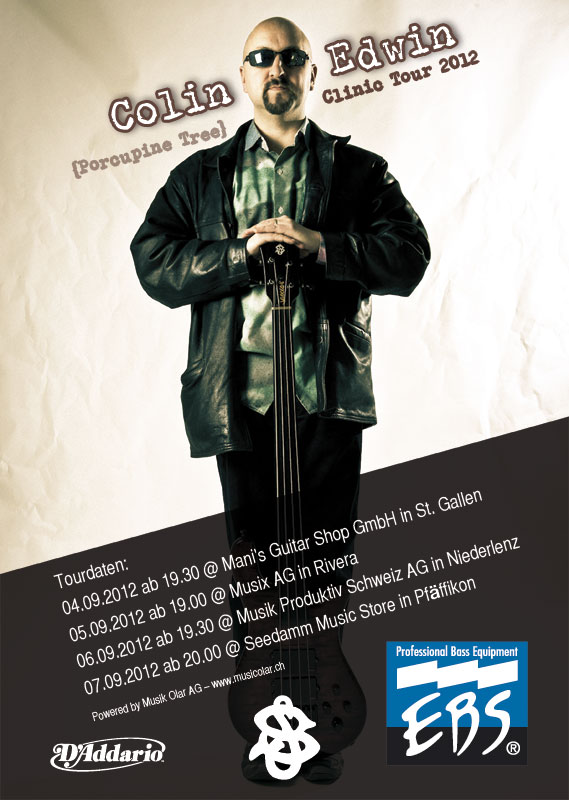 Colin Edwin was born on 2 July 1970 in Melbourne, Australia. In December 1993 he joined United Kingdom progressive rock band, Porcupine Tree. He plays bass guitar, double bass and guimbri.

In 2001 Edwin played double bass on an album by the United Kingdom duo No-Man, which is Porcupine Tree's Steven Wilson's side project. Edwin and Wilson are friends from school. "Steven was instrumental in introducing me to several types of different music," he explained.

Edwin is a jazz fan, and incorporates an atypical jazz-inspired style into his playing for a rock band. His main bass was a 1994 Wal Mark I four-string fretless bass for 10 years of live and studio use until giving it "a break" and semi-retiring it from the rigours of live touring in 2004.
He used a Music Man StingRay and after a Music Man Bongo for the Deadwing Tour, which can be viewed on Porcupine Tree's DVD release Arriving Somewhere... .
During that time period Edwin was introduced to Spector basses and purchased a EuroLX 4-string model in Natural Oil. The company then gave him a gift one of their extended scale-lengthmodels (35" as opposed to the "standard" 34" scale for 4-string basses), a Euro 4LX-35 in transparent black. This proved to be useful as over half of their 2007 album, Fear of a Blank Planet was downtuned C/F/Bb/Eb to which the 35" scale length give better definition to the lower notes as well as the general rigours of touring "The Euro 4LX-35 has a graphite-reinforced neck, which means it can come out of a freezing-cold trailer into a hot gig every night for a month without going out of tune or having any truss-rod problems".
For the second leg of the Fear of a Blank Planet Tour starting in October 2007 a ReBop Deluxe FM unlined fretless bass in Natural Oil was used for the song "A Smart Kid" among others, and well as using his Music Man Bongo bass guitar as his spare or encore bass.

However, as of late September 2009 Edwin was back to using his fretted and fretless Wal Mark I 4-string basses for the majority of the tour supporting the Porcupine Tree release of "The Incident" which was played in full on this leg and which he plays approximately 85% of "The Incident" song-cycle on his Wal basses. His black Spector Euro 4LX-35 is used for the other 15% "heavy parts" that are downtuned to C Standard. In the liner notes for "The Incident" Edwin still endorses the Spector and Basslab basses as well as EBS amplifiers, speaker cabinets, and effects pedals.

In 2009, Edwin released his debut solo album titled Third Vessel, available through Burning Shed.

We are happy to welcome Colin Edwin for the first time in Switzerland for a clinic tour!
He will present the new EBS HD360 Bass Amplifier.
Of course: He will tell you all the secrets about playing the bass...!

Check it:
Colin Edwin Official
Colin Edwin @ Facebook
Porcupine Tree Official

Powered by:
EBS Bass Amplifiers & FX Pedals
Spector Basses
Daddario Strings

zurück